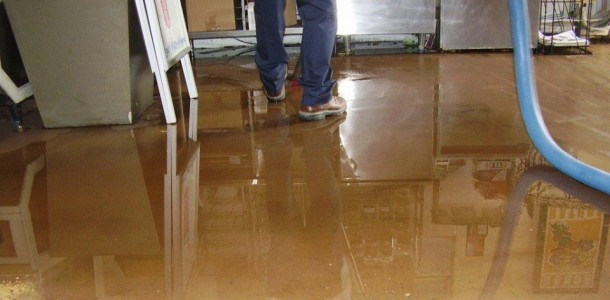 Does Water Damage Concrete?
First of all, imagine what would happen if you pour water on an unfinished concrete floor for several days (like 2 weeks). Then, when the water evaporates, you see that your new shiny floor has become dull and white-ish (cement/lime hydrate). So you then ask yourself – will my floor be like that forever? Will my floor fall apart someday? Or can I expect it to act as I want? Can I walk on it/use it?
It is possible that water damage could cause your concrete floor to deteriorate over time. However, this will depend on a number of factors, such as the composition of the concrete and how much water was applied. If you are concerned about the potential for water damage to your concrete floor, it is best to consult with a professional to get their opinion.
How does water damage even happen?
Water damage can occur as a result of many different things. Some homeowners might notice water stains before anything else, indicating that there is some kind of invisible problem present. There are several ways to determine whether there is an unseen problem brewing, including checking the surface for efflorescence and cracks. It might also be beneficial to have a professional take a look at your flooring material to check for any sort of issues that may come up in the future.
Although concrete floors are extremely durable, they can be susceptible to certain types of water damage. The only way to know for sure what you are facing would be through talking with one or more professionals who are able to inspect your concrete floors.
There are several main reasons why water damage could occur, including:
Incorrect installation – if the floor has been installed properly, it will most likely protect itself from water and other factors. However, this can vary depending on whether or not you had professionals take care of your concrete floors.
Improper materials – if you were to use poor quality materials for your concrete floors (i.e., low-grade cement), then there is an increased chance that they will be more susceptible to water damage and general wear and tear over time (such as the weather).
High humidity levels – high humidity levels (common in South Florida) are awful for your concrete floor mainly because they enable condensation to occur on a regular basis (which leads to mold growth). Thus, possible it is best to make sure that you have good ventilation and avoid using humidifiers.
Exposure to certain chemicals – if you spill hazardous chemicals on your floor, it can cause it to corrode and deteriorate over time (even with the presence of water). When this happens, nanoparticles become released into the air or nearby areas because they become trapped within the concrete. The only way to get rid of them is through major repairs, such as replacing all of the affected material.
High traffic levels – for example, if there are too many feet passing across a specific area (like near a doorway), then there is an increased chance that wears and tear will happen quicker than usual due to how much weight has been placed in a concentrated location. It is important to make sure that you are aware of the traffic pattern in your home, as this will give you a good idea of whether or not high traffic levels may be causing damage.
Osmosis and efflorescence water damage – this is the most common type of water damage that homeowners experience with concrete floors. There are two types of water damage to consider: osmosis and efflorescence. As previously mentioned, osmosis happens when moisture penetrates the concrete material on a microscopic level, which can make it difficult to spot unless you know what you are looking for.
Efflorescence occurs when an invisible residue forms on top of your flooring (which might appear white), making it more visible than osmosis. This build-up happens mainly because humidity levels remain too high for too long, causing the material to become weakened.
How do I fix water damaged concrete?
Once you determine where the water is coming from (or what has caused it), there are many ways to fix underlying problems. Suppose your concrete floor is exhibiting osmosis or efflorescence. In that case, it might be necessary to polish up the material with a washing machine or more advanced equipment that can remove damaged surfaces without having to replace them altogether.
It is also possible that your floor will need more than one treatment before issues are resolved. You have several options when it comes to repairing concrete floors, including applying topical coatings for added durability and removing stains thorough cleaning techniques – but only if they are not too deep-seated.
As previously mentioned, you should never attempt to repair your floor if you are not 100% sure of what the issue is. If you are in doubt, then it is highly recommended that you speak with one or more professionals who can provide you with their expert opinions and advice on how best to proceed.