We've Created What We Consider To Be The Perfect, Infectious Disease Deep Cleaning and Sanitizing Solution

… Take 90 Seconds To See If You Agree
If your home or business has been exposed to an infectious disease (i.e. COVID 19, flu, plague, etc.) time is of the essence. More members of your family or your staff can be exposed and subsequently be infected as well. Infectious diseases are defined by the CDC as "illnesses caused by germs, such as viruses, bacteria, and fungi, that enter the body, multiply, and cause an infection."
 Infectious diseases spread in a variety of methods, depending on the disease:
From person to person
Through air, food, water, or soil
Via animals, ticks, and insects
You also want to have a plan in place for 'Emerging Infectious Diseases'. Infectious diseases are considered to be emerging when they are:
Recently discovered
Entirely new to an area
Making a reappearance in an area
Caused by antibiotic-resistant bacteria
As America gets back to business, we have to accept a new reality of life and conducting business… Deep Cleaning and Sanitizing for infectious disease.
Here's What To Expect From Our PROVEN Sanitizing Service Designed Specifically For Killing Infectious Diseases In Your Business Or Home
Here at First Call 24 / 7, we specialize in decontamination and disinfection against all pandemic influenza strains (A, B &C incl – H1N1,HIV, H5N1 and H5N8) as well as human coronavirus. We ensure that all of our practices adhere to all OSHA regulations, we use CDC approved and EPA registered industrial-strength medical grade disinfectants with a broad spectrum kill claim, we follow the most state-of-the-art procedures when it comes to disease cleanup and disinfection, and we continually consult with the Centers for Disease Control & Prevention (CDC) for up-to-date solutions to use against all strains of infectious diseases including COVID 19.
In addition:
After we finish your job, all infected materials are cleaned, disinfected and properly disposed of as biohazard waste
If needed, we use fully encapsulated personal protective equipment (PPE) and full-face respirator masks for our certified cleanup technicians
We adhere to a stringent coronavirus demobilization process for our equipment, trucks and waste storage areas
Are certified by the Institute of Inspection Cleaning & Restoration Certification (IICRC)
 Commercial, Governmental Or Residential
…You're In Good Hands With First Call 24 / 7!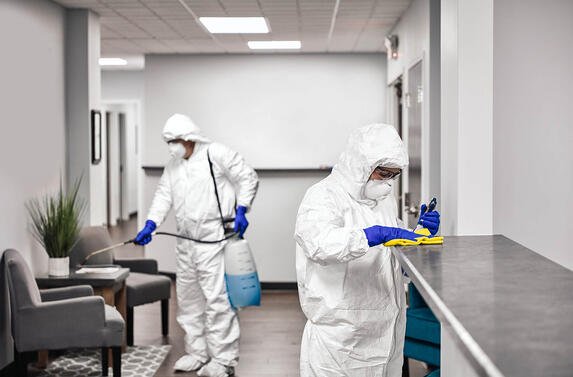 Large spaces such as schools, airports, public and commercial buildings present a unique challenge. Regardless of your application – commercial, government, public areas to residential multifamily and single family homes, we can handle them all.
Utilizing the right application strategy designed for these unique situations optimizes your results. Our process minimizes interruptions in your home life or closures to your facility to avoid inconvenience, economic hardship or relocation. We also balance speed and scale with required dwell time to ensure the most efficient outcome for your project. Plus, we minimize contact between our cleaning crews, your family or your employees and customers.
We make sure to keep you, your family, your employees & customers safe throughout the entire process!
Have questions? Would you like a FREE Consultation? Call now (866) 637-9669